Phuket, Thailand
Thailand's biggest island, Phuket, is home to many magnificent beaches, classic architecture and more.
5 Things to Know Before Traveling to Thailand
Airports:
Phuket International Airport (HKT)
Currency used: Thai Baht (฿ or THB).
Notes are in 1,000 THB (grey), 500 THB (purple), 100 THB (red), 50 THB (blue) and 20 THB (green)
Power Sockets:
220 Volts with either 2 flat blades (NEMA 1-15 or JIS C 8303) or round 2 pin plugs (Europlug CEE 7/16)
Time Zone: GMT+7
Best way to get around Phuket: Tuktuk, Songthaew (local shared bus), taxi, car or motorbike
Useful Thai Phrases
Females add "kaa", while males add "krap" to the end of their sentences.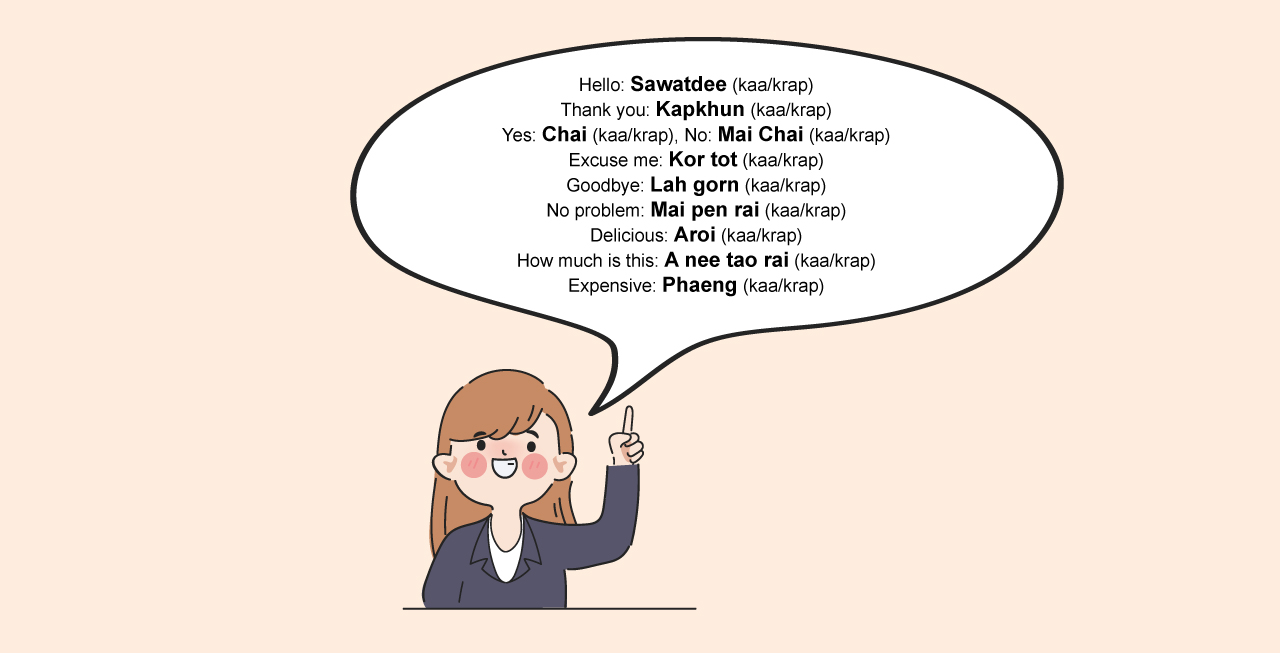 Make sure you know the customs and etiquette before you go to Thailand.
Thailand is known for its welcoming vibe and easy going demeanor.
✓ It is appreciated if you greet others with the wai gesture like how the Thai people do.
Bow your head and put your palms together as how you would do when praying.
✓ Dress appropriately when entering a temple and cultural centres.
Clothing should cover from shoulders to knees.
Avoid crop tops, hot pants and beach attire.
Remove your shoes before entering the temples.
✓ Show respect to the King, the Royal Thai Family and the country.
✓ Buddha sculptures are considered holy objects and deserve respect.
✓ Do not touch anyone on the head, as the head is considered sacred.
Fun facts about Phuket that will surprise you
Phuket is surrounded by the Andaman Sea, which is part of the Indian Ocean.
✓ Phuket province consists of the main island and 32 small islands off coast, adding up to a total area of 576 km2.
✓ Phuket cuisine combines elements of Malay, Thai and Chinese food.
✓ Phuket International Airport is the 3rd busiest in Thailand, after the two airports in Bangkok.
✓ In Thai, Patong means "forest filled with banana leaves".
✓ Wat Chalong is the largest and most important of all the Buddhist temples in Phuket.
Must try Thai Food in Phuket
Fun Things to Do on Phuket Island
Phuket is the largest island in Thailand and one of the most popular resort destinations in the world. With its crescent-shaped bays, crystal clear sea and sandy beaches lined with palm trees, this is a dream destination for all holidaymakers. But Phuket offers more than sun, sea and sand; with its rich Sino-Portuguese heritage, captivating culture, vibrant nightlife, creative culinary scene and sensational shopping, this enchanting island offers a wealth of activities and experiences for all ages. After two years of global travel restrictions, Phuket is fully refreshed and looking fantastic - ready to welcome the world back to paradise!
Here is a suggested itinerary for your trip to Phuket:
EXPLORE THE CULTURE OF OLD PHUKET TOWN
Phuket Town, the island's quaint capital, is the perfect place to discover Phuket's Sino-Portuguese heritage. In the 19th century Phuket's tin mining industry attracted people from all over the world and the island became a cultural melting pot. Heritage is reflected within the exquisite architecture of Phuket Town. Stroll through the old town, amid Chinese shrines and shophouses, discover fascinating markets and enjoy authentic culinary delights at Lock Tien, a bustling food centre.
VISIT THE CHALONG BAY RUM DISTILLERY
Like the Caribbean islands, Phuket has the ideal climate for growing sugar cane, the main ingredient in rum. Discover this native industry at Chalong Bay Rum Distillery, which uses local ingredients to create an internationally award-winning spirit with a very distinctive taste. Located on the quieter east coast of the island, not far from Phuket Town, this distillery offers regular afternoon tours (every hour from 2pm to 6pm) including the chance to sample the finished product in a refreshing Mojito.
HIKE UP TO KHAO RANG VIEWPOINT
Away from the beaches, Phuket is blessed with rolling hills. Take a short sunset hike to the top of Khao Rang for panoramic views of the Andaman Sea.
SPEND AN EVENING AT CHILLVA NIGHT MARKET
After dark, Phuket Town comes alive! Visit Chillva Night Market, a trendy, family-friendly attraction with an impressive selection of food, fashion, art, crafts and live music. Open from Monday to Saturday from 5:00 p.m. to 11:00 p.m. This is a great place to relax and soak up the "Sabai Sabai" vibe.
HIT THE BEACH
In Phuket, all beach lovers will find their perfect sandy beach! Active travelers should head to Patong Beach, the tourist hotspot where a variety of exciting activities await, including jet skiing, parasailing and more. Lazy afternoons can be enjoyed at Kata Beach, ideal for snorkeling in the calm, clear waters. Or do you dream of a lonely beach with few visitors and no banana boats in sight? If so, take a trip to Freedom Beach.
COOL OFF AND SHOP AT JUNGCEYLON
Escape the heat after a long day at the beach and treat yourself to shopping therapy at Jungceylon, the island's premier lifestyle mall, filled with Thai and international brands, fashion outlets and restaurants with air-conditioning. After shopping you can enjoy numerous of other family-friendly facilities, including a cinema, trampoline park and bowling centre. Meanwhile, adults can ease their aching muscles with a massage at the onsite wellness centres.
TAKE IN A MUAY THAI BOXING MATCH
Muay Thai, or Thai kickboxing, is the country's national sport and is popular across the kingdom. Every night, highly skilled fighters battle at the Patong Boxing Stadium, the largest Muay Thai center in southern Thailand. Whether you like martial arts or not, this offers an incredible insight into Thai culture as you witness the many ceremonies and traditions deeply rooted in the sport, surrounded by enthusiastic locals. This experience will be remembered for a long time.
ENJOY A SOOTHING SPA EXPERIENCE
Thailand is the spiritual home of wellness and no trip to Phuket would be complete without a spa session. Whether you're looking for an invigorating Thai massage targeting deep-rooted tension throughout the body, a relaxing head and shoulder massage, or even a soothing oil treatment, there are numerous professional wellness centres to choose from. The award-winning Burasari Spa offers a variety of therapies using natural products handcrafted by highly skilled spa specialists.
IMMERSE IN THAI CULTURE AT PHUKET FANTASEA
End your Phuket vacation in style at Thailand's largest cultural theater - Phuket FantaSea! Spread over 30 acres, this amazing attraction will immerse you in Thai heritage and mythology. Packed with a variety of activities and entertainment including a carnival village with games, handicrafts, shopping and a Thai themed restaurant, this is a truly immersive experience. This unforgettable evening culminates in a breathtaking, award-winning Las Vegas-style show in a 3,000-seat theater.
TAKE AN ISLAND HOPPING EXCURSION
Phuket is surrounded by some of the most spectacular seascapes in the world, including the maze of offshore islands in Phang Nga Bay. So be sure to include a day in your schedule to explore these marine marvels. Head to the picturesque Phi Phi Islands, swim in the sparkling seas and explore the colorful underwater world on a snorkeling trip. Trips can also include exploring pristine islands such as Koh Pai, also known as Bamboo Island, or discovering wall paintings at Viking Cave.
View More
View Less
Recent Reviews for Hotels in Phuket